"WELSH WRITER JO LLOYD WINS THE 2019 BBC NATIONAL SHORT STORY AWARD WITH 'TIMELESS' AND 'DEEPLY TENDER' STORY INFLUENCED BY BREXIT, SOCIAL DIVISION AND FOLKLORE" (BBC Radio 4)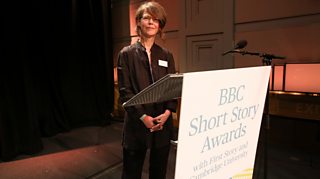 "Welsh writer Jo Lloyd has won the fourteenth BBC National Short Story Award with Cambridge University 2019 (NSSA) for 'The Invisible', a distinctive and compellingly original story. Inspired by the life of an 18th Century woman from Carnarvonshire called Martha who claimed to be friends with an invisible family living in an invisible mansion, Lloyd discovered her story by chance in the online Dictionary of Welsh Biography. Set in a close-knit community, the story is both timeless and universal, and resonates profoundly in an age where fear of outsiders and social division is rife."
Listen: Aimee-Ffion Edwards reads "Jo Lloyd's hypnotic tale about the fantasies people embrace to make life bearable" The Invisible by Jo Lloyd.
Read: "Welsh writer takes £15,000 prize for The Invisible, based on a real 18th-century woman who spread tales in her village" Guardian report including the text of the short story.
Interview: Jo Lloyd on Winning the 2019 BBC National Short Story Award (Wasafiri)
This news continues a series of successes this year by previous Willesden international short story prize winners. Jo Lloyd won the Willesden in 2009 with her story "Work", which you can read in New Short Stories 3.